The Best Restaurants in Gocek, Fethiye, Turkey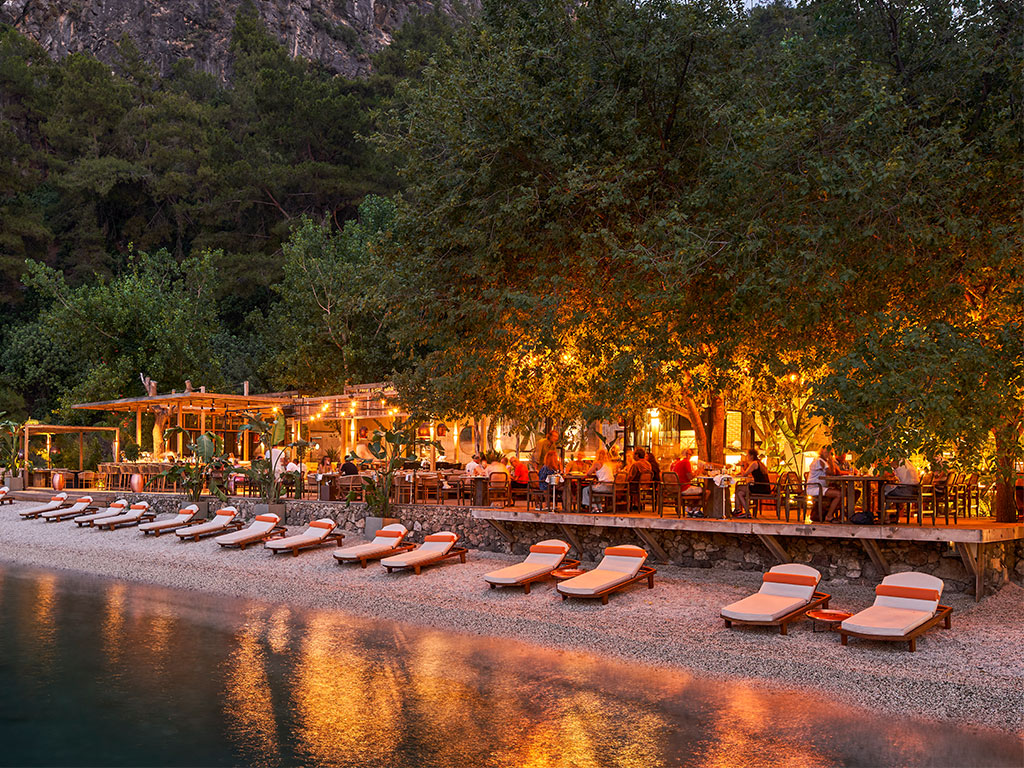 Fethiye is a must-see destination. Not only for its world-famous beaches and natural beauty, but it also has a rich history and culture as well as interesting activities. This Mediterranean city has everything, without a doubt.
Of course, besides from experiencing all these things in Fethiye, there is another important part and that is the moment when the question of where to eat is asked. Although Fethiye restaurants offer various alternatives cuisinwise, it is necessary to look a little more to find the best ones, as anywhere else. We have listed our favourite Fethiye restaurants to help your restaurant search.
Bedri Rahmi (Taşyaka) Bay
This gorgeous bay is actually called Tasyaka but it has been named after the Turkish painter and poet Bedri Rahmi Eyüpoğlu for years because of the fish painting that he made on a rock in the bay. There are two restaurants in Bedri Rahmi bay, which can only be reached by sea. One is Zeytin Restaurant, which has been serving in the bay for years, and the other is Onno.
Zeytin Restaurant
Zeytin Restaurant is one of the way ports for the Blue Voyage boats. Known for its dishes prepared with local fresh fish and seafood, Zeytin welcomes its guests not only for dinner but also during the daytime. And if you catch a full moon here, you'll understand why Bedri Rahmi have chosen this bay for his paintings.
Onno
Onno, the new restaurant of Bedri Rahmi Bay, appeals to all tastes with its well-rounded menu. Emphasizing eco-friendly tourism and sustainability principles, the restaurant has already become one of the favourite restaurants of Gocek.
Adaia – Hamam Bay
Adaia is one of the Fethiye restaurants that are reachable only by sea. Adaia is not just a chic restaurant-bar. It is also a living space with its cultural events, beach, sport activities and library.  You can have your meal every hour of the day and enjoy the natural ambiance of Adaia.
Mori Restaurant Fethiye
Mori is one of the most long-established restaurants of Fethiye. It's located in Yacht Classic Hotel at the centre of Fethiye. The menu, which offers varieties from different cuisines, stands out especially with seafood. Also, its stylish atmosphere and beautiful view attract all kinds of food lovers.
Ada Restaurant – Sovalye Island
Ada Restaurant is located on Sovalye Island across Calis Fethiye Beach. The highlight of the restaurant is its view. It should be especially noted that the sunset here is truly unique. But if you cannot catch the sunset at Ada Restaurant, you can always enjoy the view with delicious food alternatives.
Q Lounge & The Breeze
The two restaurants of the D-Marin Gocek offer two different types of menus to the guests. Overlooking Gocek Bay, Q Lounge offers his visitors unique Japanese dishes in addition to marvellous view. If you want to try something different from traditional seafood or meat, Q Lounge is definitely a good choice in Gocek.
But if you want to enjoy good Mediterranean food next to a spectacular beach you will love The Breeze. Also, The Breeze colour up Gocek nightlife with DJ performances.
Tavern Yazz Collective
Tavern is located in the Yazz Collective in Turunç Pınarı Bay, which can only be reached from the sea, and serves only in the evenings. At Tavern, the menu varies according to the seasons, what is grown in the Yazz Collective field and the freshly caught fish. Yazz Collective, which adopts zero waste principles in the kitchen, also has a large wine cellar.